Some time on Thursday night a lorry decided to ram into the bridge that connects us to the next village, the road has since been shut and we are having to use the back roads to take the children back and forth to School and Nursery.
This wouldn't normally be a problem as it usually takes the same amount of time to commute using either road. However, now that the main road is shut every man and their dog are using the back roads.
The back roads are narrow and aren't really suitable to carry such a large amount of traffic. We have therefore allowed an extra ten minutes for the school runs and such like to sit and wait in traffic on a road which would usually take us less than five minutes to travel upon.
On the upside, Paul took the kids to their Nana and Grandad's house for their weekly 'Sunday Lunch' yesterday. Rather than having to use the pavement they found that due to the road closure they were able to walk casually down the middle of the road, J scooting back and forth to his heart's delight whilst E caught a piggy bag with her Daddy.
Paul kindly took some pictures which I decided to share for this weeks edition of #LivingArrows.
Princess Having A Piggy Back
J Scooting In The Distance

Thanks for reading and as always I look forward to catching up with your #LivingArrows either through your own posts or comments upon this post.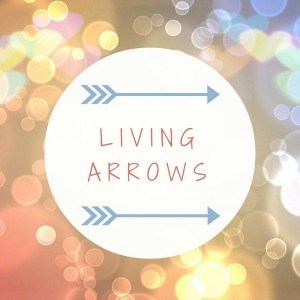 ---